Virtual employees add diversity of experience and perspective to your team.
Many business owners hire consultants, coaches, advisors to help them see things in a different way, to get a different perspective from a trusted source.
It's especially common in real estate and commission sales-type businesses where outreach and messaging are critical to success.
There is value in bringing in not only an extra pair of eyes but an objective outsider point of view that isn't bogged down by too many details.
The outsider holds a valuable perspective simply by being an outsider.
When you're so caught up in your business, knowing all the problems, all the details – you might be missing the forest for the trees.
Consultants and coaches and advisors are usually pretty expensive – especially the ones with good reputations.
So, you might not be ready to pay for that kind of outside analysis and support.
There's another way to get a fresh take on your business from people who are already on your payroll and care about your success.
Yes, I'm talking about your employees and in this case specifically HireSmart Virtual Employees.
Virtual employees have an outsider perspective that can be valuable if they're encouraged to express their ideas and insights.
They're an excellent way to diversify your team.
Diversity is a term that gets thrown around a lot.
Where I'm coming from, it's not about showing that you have a diverse staff, so people think you have enlightened business ethics.
Diversity is valuable in business because fresh ideas, new ways of understanding, and creative approaches are born from being able to see things in different ways.
When your staff is diverse, you can benefit from a diversity of experience, cultural values, styles of education – even different ways of thinking.
HireSmart Virtual Employees are known for their high quality and low labor cost value.
They also have value because they bring their own unique cultural approach to business, work and life.
If you're interested in taking advantage of highly skilled, dependable and motivated virtual employees who can also see your business from a fresh perspective, click here for a free consultation.
A good listener helps work through problems, allows the person to feel validated about their concerns, and to feel recognized as human beings.
We seek out relationships with people who will listen to us carefully, thoughtfully, and without judgment.
They won't teach you this in business school, but a huge part of being a successful manager is learning how to listen in a way so that your employees feel heard. I'm not saying you need to be a therapist or that you need to connect emotionally with your staff.
I'm saying that you'll keep your staff longer and they'll be happier and more productive when they know you care about what they have to say and what they think.
In real estate, the motto is Always Be Closing (ABC). I like to modify that when it comes to employee retention – Always Be Listening.
Every employee interaction, when you're paying attention, has clues about how people feel about their jobs and their lives.
Naturally, you care about your staff and want to know about their lives, but the day-to-day grind can keep you focused only on your own challenges. You might not have the bandwidth to entertain conversations outside of strictly work-related topics.
This is understandable, we've all been there many times.
Still, when you consider the value of a strong employee and the many costs involved in replacing that employee, it's pretty plain that you need to prioritize their sense of job-related satisfaction.
After all, you know that you need to listen to your customers, or you'll lose their business. It's the same with employees – when you take their issues and concerns into consideration, you prove to them that they are valuable and respected.
At HireSmart Virtual Employees we understand that workers aren't only motivated by their salaries, which means we understand how to help you keep your costs down and your morale up.
We have trained and competent virtual employees available who are worth being listened to.
If you're looking to make some staffing changes to build a great team, we will help you find and keep employees for the long term. Book a free consultation here so we can listen to you and find solutions together.
The community association management industry is facing a serious drought: qualified community management professionals simply cannot be found. They are overworked and underpaid and yet still somehow cost management companies a small fortune whenever a new hire does come on board. But there is a solution. This series will cover the roles a virtual assistant can easily and affordably take on to help your staff take back their workday! This article will talk about why an HOA Maintenance Coordinator could be the best choice for your management company.
In our last article, we talked about how hard community association management companies are struggling to acquire and retain staff thanks in part to The Great Resignation. An already depleted pool of qualified management professionals is slowly getting smaller and smaller, hiking up staffing costs and forcing managers to overload themselves and burn out.
We then talked about all of the reasons why a HireSmart Virtual Employee (VE) or virtual assistant (VA), like a virtual HOA Accounting Assistant, solves a lot of the problems most management companies face today. But what if you're already happy with your accounting staff? What other options are available to you?
When you think about a traditional "assistant" you might imagine someone running around fetching coffee or dictating a day's worth of calendar events to an executive–but this isn't the 1980s, and assistants have so much more to offer today. That outdated concept makes it a little hard to come up with all of the ways a virtual assistant can be valuable. They aren't even there to keep you caffeinated, how good can they really be?
Now think about all of the menial, tiny tasks that take up a truly shocking number of hours for your staff. Specifically, think about the time your staff spends handling the minutia of community maintenance.
The Mess of Maintenance Management
There are a lot of important parts to managing a community association. Arguably, one of the most important is staying on top of community maintenances. Supporting boards in fulfilling their fiduciary duty means more than just running numbers. It is the responsibility of all community trustees that their decisions are both financially sound, and contribute to community success, like upholding safety and curb appeal. Right now, most management companies task community managers with maintenance tracking responsibilities. That means they're spending hours of their time researching vendors, filing paperwork, making phone calls, and fielding the back and forth between community and service provider.
Can they do the work? Absolutely. Your managers are qualified, trained professionals with an intimate knowledge of the industry. They can do anything. But should they be? Not if they can better use those hours elsewhere!
Managing community maintenance tasks doesn't require the specialties that a certified property manager has to offer. It takes organization, time management, and planning (all of which are important skills!), which is something you can get from the right virtual assistant.
3 Tasks to Pass Off to a Virtual HOA Maintenance Administrator
Giving your managers back their workday is simple if you know where to offer support.
Homeowner Maintenance Requests - Homeowners are constantly submitting requests when things break down. The first step is to determine who is responsible for the item. If a street light is out, is that the community's responsibility, or the city's? If a homeowner's doorbell is broken, who repairs it? The homeowner, or the community? A dedicated virtual HOA maintenance administrator can sort out who is responsible, and contact the right party to make sure your homeowners are taken care of without overstepping your reach.
Maintenance Calendar Management - Much like a traditional assistant, an HOA maintenance administrator VA can take on the mess of time management for a community. Even though your managers are probably great at making the most out of every minute of their day, community maintenance schedules can be worse if you aren't deliberate about how you schedule your maintenance team's time. Having someone who can field homeowner maintenance requests, schedule the jobs and also balance out the calendar in a way that doesn't overwhelm your maintenance team is important. As an added bonus, a virtual maintenance coordinator can be a second set of eyes for ongoing municipal services, also. Ensuring that major projects, like electrical or road work, aren't scheduled alongside conflicting services, like landscaping, is important in ensuring efficiency community-wide.
Insurance Expiration & Renewal Tracking - Awareness of your contractor's potential liabilities is a crucial component of maintenance management. And yet, it's another one that doesn't require specific expertise to accomplish. Assigning this task to a virtual HOA maintenance administrator keeps all of that important information and workload with one person. Now, the person determining which contractors are performing what tasks on any given day is also the one who's most aware of when those contracts need to be paused in the event that their workman's comp lapses.
Contractor Communications - Easily one of the most time-consuming parts of the maintenance management workload is just communicating with people, because it's more than just the phone calls and emails. It's seeking out vendors to bid on a job, and RFP creation and distribution. It's bid aggregation, it's contract renewals. Communicating about the maintenances can sometimes take longer than the actual maintenance being done! A lot of the leg work in maintenance coordination comes from the discussion prior to any maintenance even taking place. With a dedicated virtual HOA maintenance coordinator, your staff can rely on someone off-site to handle the bulk of communications to streamline the contract securing process for your communities.
Let HireSmart Help You Hire Smart
When the time comes to start onboarding a new support system for your accounting team, HireSmart Virtual Employees is here to help. Book your 30-min discovery call today to start the process of getting paired with your future HOA Maintenance Coordinator.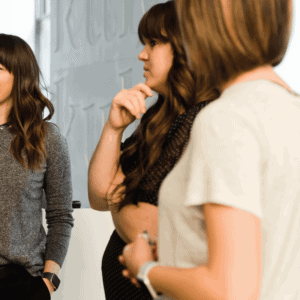 A business owner we know had enough work to keep a staff member very busy for the first two weeks of each month. It was all computer and telephone work. They hired a local administrative assistant to work on-site providing the space and tools for them to work in their office.
The payroll costs, including benefits, came to about $25 per hour, and were busy and only productive about fifty percent of the time.
The time that work was slow, rather than productive, they were counterproductive to the remainder of the staff. Interrupting others, meddling and from the view of the other busy staff, getting away with murder by not having to work hard. This environment wasn't good for business and caused most of the Human Resource issues this business person had to deal with. When this staff member gave notice they were leaving, an opportunity to change and improve presented itself.
Looking for a better solution than just hiring another person and having the same issues, they contacted us for information about our Hire Smarter Solutions. The business owner had heard about Virtual Employees and found out that it was an excellent solution to getting the work done well and not having the counterproductive time since the virtual employee was working from the Philippines. It became an excellent solution and better yet, without having to provide space and tools, the cost was only 28% of the on-site employee.
As business owners, we sometimes forget the additional benefits that can come in addition to direct costs savings. In this example, our client not only saved on the staff costs – but also saved on the cost of having other staff members feel more productive, a happier workplace environment, and less interruptions in the office.
If you'd like to learn more on how you can take advantage in hiring your own virtual employee, feel free to book an appointment with me today!
One's ability to communicate effectively is the difference between being average and being fabulous. You see, people who are great communicators have better relationships with everyone – their boss, colleagues, spouses, and friends. 
The good news is that improving communication is a skill that can quickly be developed & improved. I am going to share 5 tips that, if used, will impact your communication and help you in your business and personal life.
Be Clear. Most people are not specific as to what they want and, therefore, can't or are not able to articulate what they are trying to say or achieve. It is hard to have someone meet your expectations when you aren't specific and clear.
I manage a dispersed team of over 200 people around the globe. To do this well, I need to be very clear about my expectations for client interactions. I developed a "Guide to Excellence," which everyone reads and acknowledges so that there is no ambiguity as to what is expected of them and me. 
For example, one of our commitments is that we have a 2 minute or less response time during business hours to any client request. The response may be an acknowledgment of receipt, but it tells the person – "I received your request, and I will address your concern."
Being clear about my expectations allows there to be no ambiguity in communication. 
Be Curious. It has been said the frustration is expectations not being met. When you are not getting the interaction or results you are looking for, I recommend being inquisitive rather than judgmental. 
I believe most people are doing the best they can. Sometimes they fall short because they don't understand, they don't want to disappoint, or for some reason can't comply with the request. When you seek to understand their point of view, this transforms relationships. Don't assume they are trying to be difficult.
Once you understand their point of view, you can determine the best course of action.
Be Consistent. There is safety when there is consistency. Mixed messages and inconsistency in our words and actions lead to distrust. When trust has been broken, communication almost always is broken. 
When managing teams, it is essential to treat the team consistently. Communication is more than words spoken. It is also promises kept. If you have a deadline and are clear about that commitment, then there needs to be action taken if the commitment isn't met. Consistency goes hand in hand with clarity. Let your yes mean yes and your no, no. Your team will come to rely on you and perform at a higher level when they understand the objectives and know that there are rules to abide by.
Be Trustworthy. Don't violate someone's confidence. When people take the risk and share things to deepen the relationship, honor that trust. Sometimes people need to be heard so that they can move past whatever it is that is keeping them from moving forward. 
Being able to allow people to share what is happening deepens trust and, therefore, the relationship. Listen intently. Involve active listening skills, and don't interrupt. Let them know that it is safe to speak with you. 
Be Transparent. If you make a mistake, own it. Acknowledge it. We are all human, and no one expects perfection. You will gain respect when you stated you made a mistake and ask how it can be made right. 
While good communication is simple, it isn't easy. Like any skill, it must be practiced. However, if you work at it, no skill will net you more in terms of rewards. 
Having put these techniques into practice, I know it has helped me build relationships with my team, my husband & business partner of over 22 years, my strategic partners, as well as my family.
If you're looking to increase your business productivity, feel free to set an appointment with me today!
At HireSmart, we reward exceptional service through recognition. Here is a clip of our awards ceremony! Enjoy!
After 22 years of being married and 20 years of being business partners, one thing is certain no one knows me better than Mark. I am quirky, fearless in business, passionate about results, and will not allow anything to deter me from the goals and dreams we have. However, Mark also knows my "underbelly," the things that bother me and my weaknesses.
On Thursday, I was sitting at the breakfast table, and I look over to see a lizard stuck between the window and the screen. While he found his way in, I was sure that he wouldn't be able to find his way out. 
Now, I am not a lizard fan, but I certainly didn't want a dead lizard in my window casing. Mark knew it was going to distract and bother me. It was going to be a constant nagging. Sure, I could have dealt with it but didn't want to. 
Mark, therefore, took it upon himself to go outside, make the gap bigger for the lizard to escape, but the lizard was so afraid of Mark, he just backed away from the gap. I get on the (safe) side of the glass and start tapping to move the lizard to safety. It took both of us to get the lizard to find the way out, but he did.
Often, we need people in our lives to help us see the way out. Especially in business, if we want to grow faster, achieve our goals, it is best to rely on those who have been before us, someone who has paved the way and can either help us get there faster or hold our hands. 
We help business owners reduce overwhelm, bad hires, and staff turnover. We have paved the way with proven hiring processes for optimum results. Let us show you the way and get unstuck in your business. Set an appointment for a free consultation.
P.S. If you are looking for someone to help you grow- check out my friend Jim Roman's 3 day event. He is fantastic & the event is limited, so register early.
Post-COVID, companies are going to have to adapt. Many companies will change their policies about visitors, working from home, and there will be a new standard for office cleaning to keep employees safe. All of these changes mean that as business owners, we need to evaluate, change, and enforce the new policies.
I have been managing remote teams for more than 7 years now. I have worked with hundreds of clients to help them prepare for blending remote and in-office teams. I am helping them prepare and work together to thrive & improve their business processes and increase customer service. 
The COVID interruption minimally impacted my clients. Most of my clients are using this disruption to evaluate their staff, right size, and become more efficient. 
After evaluating the successes and failures of business owners to navigate the use of remote and in-house workers, I can identify 3 areas where business owners struggle: Technology, management, and data security.
TECHNOLOGY
Phones
Most companies have determined that the old POTS line with a PBX has gone the way of the technology dinosaur. What they don't realize is the VOIP phone system that they have can generally easily be adapted for remote workers. We recommend using the software phone on the computer with a wired connection versus using wi-fi. Wi-fi connections, even at high speeds, can lose packets and make the call sound unprofessional.
Computers
Many companies have cloud-based software that allows for remote team members to connect when outside of the office. For the few programs that are not cloud-based, there are other options like Terminal Server that allow for quick access remotely. A quick call to the IT consultant can generally solve this issue.
MANAGEMENT
The implementation of virtual employees will highlight strong managers and weak managers as well. In an office setting, it is easier to form connections and bonds that can make up for weak managerial practices and communication. Managing a virtual team requires excellent communication and commitment to keep the team from becoming disjointed. 
If the company has clear goals and outcomes, it is easy to implement Key Performance Indicators (KPIs) to evaluate anyone's performance fairly. 
KPIs, along with regular targeted interactions with the team, helps everyone focus on the primary goal of the company and department. This management style allows a manager to be unbias, help with training or deficiencies in the team, and allows for better overall employee experience. 
Knowing the targets helps the employees stay engaged and help self-manage their performance. It also allows for them to seek help when they realize they are below the bar.
SECURITY
When thinking about using virtual employees, the company needs to evaluate its data security and policies. Security can be addressed in a few ways.
Background Checks
When we are providing virtual employees for our clients, we can perform a full criminal background check similar to what the FBI does. Not every country has that available to them. We feel this is an essential first step in hiring virtual employees.
Computer Policy
Virtual employees oftentimes are using their personal equipment. As such, they use that equipment for various tasks, which may include a child's entertainment. This can lead to the introduction of malware and viruses, which can infect the whole network if you are not careful. We recommend that every client has a written policy about equipment, pay for anti-virus and anti-malware software for their virtual employees, and perform regular maintenance on their computer to try and prevent any issues. 
Data Policy
Virtual employees working from home have access to the company's most prized possession, their intellectual property, their client lists, and other sensitive documents. For this reason, having a clear data policy, non-compete, & non-disclosure documents are a must. As a business owner, you want to do everything you can to set the expectation of how to handle sensitive data. Providing rules about printed material, access to only the data required for the role, and regular reminders about data protocol are all important.
At HireSmart Virtual Employees, we walk our clients through all of these issues and provide tools and training to make sure you have the very best experience when hiring virtual employees. If you have ever thought about how you can implement full time dedicated virtual staff to reduce your payroll costs while providing a better customer experience, set a time to speak with us – BOOK A CALL.
Irma was a nasty girl!
As everyone should know, Irma crawled through Florida and into Georgia this week. Mark & I were without power for 32 hours and are still without internet and probably won't be up for days... (This is being done on my mobile hotspot. Thank goodness for technology!)
We knew Irma was coming for days. We watched, we planned, we were prepared. And yet, when she arrived, I felt a little overwhelmed and powerless. It has made me think more and more about how our Virtual Employees feel when they are at the mercy of the elements.
In the Philippines, storms and outages like this are much more common. While we educate our virtual workers on being prepared, having a backup solution, and communicating what is happening, I now know the stress that they feel. Add to it that every hour they work (or don't work) has a huge impact to their family's well-being.
I wanted to share with you my thoughts on how you could help your virtual staff member in the event of an outage to help you understand and to make sure that your virtual staff member acts in a manner that helps the situation and not causes further damage to the relationship.
First, have a policy and a plan for your virtual staff member to follow.
I find it always easier to explain my expectations of how to handle an outage before one actually occurs.
Things to discuss are:
When & who to advise of a potential threat?
Some clients like to know even if there is a possibility of an issue, others don't want to be bothered until there is a loss of power/internet for more than 5 minutes. Letting your virtual staff member know your preference allows for better results and management of the behavior.
Do you prefer your virtual worker to relocate if possible?
If so, when should they relocate? After 30 minutes? A hour? Do you mind your virtual staff member using an internet café?
How to communicate outrages?
Email? Skype? Slack? What is your protocol?
Once the policy is set, then you have to hold your virtual staff member accountable to it. Like any relationship, it is easy to allow little things to build up. Yet, what I have found is little things can quickly become big things if they are not addressed quickly. It is perfectly OK to have a frank conversation with your virtual staff to clear the air. However, if you are uncomfortable doing it directly, feel free to reach out to me or Neil and we will happily address it for you. The main goal is to be consistent.
I will share with you that one of my earlier virtual staff members violated an important rule. The first time came with a warning and a small penalty and the second time she was released from service. I had a 1 warning rule for that specific mistake and so as much as it pained me, I felt I needed my yes to be yes and my no be no. I knew that if I didn't, I wasn't being the leader I needed to be for my other staff members. It wasn't "convenient" for me to let her go, but I earned the respect of my other workers (inside staff and virtual staff) because I was consistent in the policy. (If you are interested in knowing about the specifics of this incident – reply and I will be happy to share.)
Understand that in 99.999% of cases, your virtual worker wants to keep their job and please you. Yet, they aren't sure what to do. They are embarrassed to tell you they are having an issue. They really need this job. It is vital to their family and yet their culture is very different. It isn't that they want to hide it from you, but they are afraid & worried so they don't speak up. Having a set protocol helps them know that you are OK with the occasional outage.
Now, if your virtual worker has more than 1 extended outage a quarter, then we need to know and need to help with a better solution.
What I learned through Irma and going through an outage myself is that it is very stressful. No amount of preparation can fully equip you to give your job your best, and that communication is key to getting through with the least amount of impact.
This was the best thing that I can see that came out of Irma. Stay safe!
To your success!
P.S. I am always here for you. If you are ever having an issue and want to chat about it, feel free to book a call with me.