For a manager, setting performance goals is the tool of alchemy – turning regular employee productivity into solid gold.
I've written a lot about Key Performance Indicators (KPI) in the past and how they're a powerful tool for setting up virtual employee success.
They allow you, as a manager, to identify the indicators that are most valuable to you and to your business.
When you communicate those indicators to your virtual employee and make sure they're being met, you secure the value of your labor dollars.
Really, if there's only one management strategy you use, it should be KPI.
But even when you set and manage KPIs, there's another step to elevate your virtual employee into higher achievement levels – setting performance goals.
According to the McKinsey organization blog, setting performance goals directly benefits the employee –
"Encouraging employees to set performance goals helps push performance and serves as a motivator for ongoing development."
And also benefits the business –
"Goal-setting can help improve employee engagement in a way which elevates performance and benefits organizations overall."
Not every employee will want to set high reaching goals – they may not have the time or energy to invest more of themselves in their jobs.
That's fine, they can continue to meet their performance indicators and stay in that lane of steady, solid performance.
But, maybe you have a virtual employee (VE) who seems excited by the opportunity to learn new skills, take on additional responsibility and improve her position by helping to grow your business?
This person has the potential for solid gold employee performance using the alchemical power of setting goals.
Harvard Business Review offers four helpful approaches to setting goals that supercharge employee performance:
Connect employee goals to larger company goals
Show employees that you are their partner in achieving their goals
Make sure employee personal ambitions and interests are included whenever possible
Communicate specific benefits associated with goal achievement
Now, Harvard is fancy and all that, but we've helped our clients improve virtual employee performance through goal setting for years.
If you're looking for a staffing company that knows how to maximize productivity from virtual employees, click here for a free consultation.
Anytime you have a new team member, you need to provide a way to integrate them into your team. Onboarding a new virtual employee is a key step in the process. Here is a short video to explain how we recommend that you get started with your onboarding and training process.
We hope that you enjoy this video and we look forward to hearing about your success!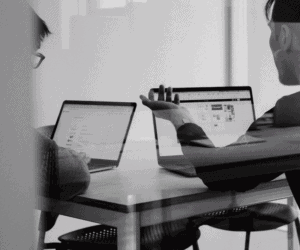 Virtual employee training can be a chore if you don't know exactly what to do. We are going to share with you our 5-step method for great results.
After going through all the hiring process and interviews, it is exciting to finally meet someone who hits all the checkmarks of qualification that you require for your future employee. You make the offer and they accept. Yeah! As excited as you are, they are excited too!
Now we have to prepare for them and get them trained and ready. You may ask "'what is the best way to provide training for my virtual employee?" To help we have collected some useful tips and plans that you can create prior to meeting your virtual employee for the first day of work.
Introduction
A highly skilled and experienced candidate knows little about you, your company, and the required elements on the first day. They are being introduced to a whole new environment. They are excited and nervous and this can make them feel intimidated and overwhelmed. There are new faces, tons strange information, and work styles to become familiar with.
We recommend spending a few hours planning your training agenda ahead of time. On their first day provide the agenda for the week and your training structure as a roadmap that they can follow as a guide. You should start with a company profile that explains about you, your company, and the role that they play in your business. It will require that you invest with your time gathering all the necessary information about your business and its history, your vision and mission statements, the people involved in your business, and maybe even some amusing trivia to help them feel informed and welcome as part of the team.
Understanding Expectations
Certainly, you want your virtual employee to be very productive. Realize however that it takes time to fully understand their role and what you want them to do. We highly recommend you set goals and objectives for your virtual employee from the very beginning. We recommend weekly and monthly goals, in the beginning, to help your virtual employee understand what is expected of him or her. Having these written goals helps you manage your virtual employee and helps them to self-evaluate their own performance. If you need more help in setting performance goals, you can read more about it. We also help you determine Key Performance Indicators (KPIs) in a previous article.
Visualize
Watching the news on television is more interesting than hearing it through radio because 70% of people respond to visual stimuli. For this reason, we recommend creating a simple yet informative demonstration of the required tasks to help your virtual employee for their training. You can also create checklists for the tasks as it may also serve as their quick reference for work. If you have a short video that can reference a certain topic, you also add it to your presentation to spice up the lesson make it more interesting to learn. In addition, have sample tasks that they can get started with the reinforce the learning. The good news is once you have created these training modules, you shouldn't have to do them again for the future.
Organize
Once you have created the training modules, you should organize each one by topic then put them into the order required for viewing. The better organized you are, the easier it will be for your virtual employee to find the training again if he or she ever needs a refresher. The better organized and logical your training is, the better results you will have. Taking the time, in the beginning, will save you time later if you bring on a new staff member or if you must make a replacement.
Quizzes/ Activities
Quizzes and activities reinforce the learning process. If you can plan some practice exercises for your virtual employee to work on that relate to the training they have just received it will cement the concept and retention will be that much higher. We recommend you start with activities that will not impact the business function until your virtual staff member demonstrates a full understanding of the concept. Once they have, then you can move forward with a more "real world" experience.
If you take the time to set up your training program as part of your new hire process, it will benefit you greatly in the long term. While the task may seem overwhelming, it doesn't have to be. Assuming you or someone in your organization is already doing these tasks, all you need to do is invest in a screen capture software and then record someone doing the task when they are already working. After that, it is as simple as organizing the screen captures into a folder and making sure those folders are labeled appropriately.
If you have ever considered hiring a virtual employee, but don't know where to begin, we have helped many businesses shorten the learning curve in hiring and managing remote staff. You and book an appointment to speak with us and we are happy to help.
Using our 5 steps to train your remote staff is the key to having them help manage your business. If you have provided a good training foundation, then, without a doubt, you can be at ease in assigning specific tasks that would help you manage and grow your business. By providing the right kind of training and allotting some time each week to training your remote staff you will see the best results.
Here are some tips that you might consider when conducting training for your remote staff:
1.     Make an outline of the topics that you want to introduce to your remote staff
Start with an introduction to the nature of business of your company. If your remote staff already has the experience, then it will be easier for you to train her in the other areas of the business. If your remote staff does not have the specific experience for the task, providing the foundational skills and learning is necessary.
We recommend that every client starts with the top item that they want to get off their plate.
2.    Create activities at the end of each training session
To make sure that your remote staff understood the topic for the day, prepare some activities to gauge your remote staff's level of understanding and comprehension. The results of the activities would give you a hint if your remote staff has understood what you have discussed and if he/she is ready for the next topic.
In addition, doing the tasks shortly after the initial training allows for reinforcement and early correction of any mistakes. At HireSmart Virtual Employees, we use a variety of learning styles to make sure that we cover all the modalities of learning.
3.    Use Join.me or GoToWebinar sessions when conducting interactive training
GotoWebinar and Join.me allow you to fully communicate with your remote staff – this gives you options to share screens, chat, do video calls, and much more.
If you want a cheaper option, you can use skype with screen share, but the quality will not be the same.
4.    Ask if your remote staff has questions to engage the trainees
Learning is always fun when it is interactive. Do not bore your remote staff by continuously speaking and not asking if he/she has questions. Occasionally, ask your remote staff if they fully understood the topic, or if there are questions along the way.
5.    Create an organized training library
Once you have trained on a topic, make it available for refreshers by placing it where the remote staff can access it again. We have found that having an organized central learning library, it allows us to cross-train more effectively.
Having it well-organized means that it can be accessed for future hires with little to no need for us to redo it again. If a task or process changes, then we ask the remote staff member who is responsible for that task to keep it up to date.
Incorporating these 5 tips into your training sessions, it will help you get the most out of your remote staff during the training period.
Don't want to train your remote staff from scratch? This is about using our training to help. We have a wide variety of training topics from Social Media, Customer Service, and Cultural Differences – for you and your team member, and lots of real estate topics like Property Management, Broker/Agent, and Investor. You can learn more about our classes here.
Book your FREE Appointment today!
Here are our top 5 tips on training your virtual employee quickly and painlessly. As you are aware, training is the key to successfully managing your business and yet, this is where most business owners fail their virtual employees and even their internal staff. Often they are too busy running the business to strategically think about how to develop their key people. It doesn't have the be this way.
We highly recommend setting up your virtual employees for success by starting with some foundational training that includes some cultural differences training, then providing the context of how the specific tasks fit into the overall picture of the business. In addition, you need to introduce them to your core values, mission, and service vision.
Training is something that should be an on-going process in your business. To help you, we wanted to provide you with some of our best practices to guide you in setting you and your virtual employee for the best success.
1. Assess the experience of your virtual employee. Some virtual employees may already have industry or task experience while others may be brand new. Clearly evaluating their level of understanding will determine where and how you start your training program.
2. Outline of the topics that you want to introduce to your virtual employee and then create a strategic training plan over the next 90 days. This should be updated every quarter as your virtual employee grows into his or her role.
Start with an introduction of the nature of business of your company. If your virtual employee already has experience in this type of job or industry, then it will be easier for you to train in other areas of the business. If, however, your virtual employee does not have any experience, you need to be prepared him or her for their role.
3. Create activities for them to practice their skills and evaluate their work. A mistake some business owners make is that they teach it, but don't provide feedback or assessment of the virtual employee's understanding of the tasks. Having your virtual employee perform an evaluation or practice reinforces the learning process in a safe environment. It also allows the business owner to see where the gaps are in understanding.
At HireSmartVirtualEmployees.com we train in all modalities so that no matter what the learning style the virtual employee has, we make sure that we accommodate for them.
4. Whenever possible, use live instructor lead training. We have trained hundreds of people and by far the best results come from live training. Being able to teach a topic, interact with the students, and then assess their learning based on the activities has allowed the virtual employees we place to have a much higher rate of success than on-line training alone.
There are many programs like GotoWebinar.com, GotoMeeting.com, Join.me, or using Skype's share screen feature all allow you to fully engage with your virtual employee.
5. Make sure you are asking questions during the training. Asking questions that show the application of the training will net the best results. Learning is always more fun when it is interactive. This accomplishes 2 things. It allows you to keep your virtual employee engaged in the process and confirms understanding.
These are the proven training methods that we have used to train hundreds of people. If you would like us to help you with your next hire, we would welcome the opportunity to speak with you about your staffing and training needs. Sign up today for a free consultation.
While hiring a Virtual Employee (VE) is a major decision, training your virtual employee is the key to having success. It will completely change the shape of your business in better ways. Once you train them, you will have a seamless workforce.
Having a VE is not an overnight process; you need to deal with the changes one day at a time. Training a Virtual Employee can be a challenge for many reasons. The biggest is lack of free time. Which is why you need one in the first place – right? The second challenge is you don't know where & how to start.
Before you hire, you need to set your virtual employee's duties and responsibilities as part of your team. On the first month you may want to have a daily chat with your VE to make sure you are on the same page and to establish a bond as well as to provide feedback of what is working well and what your VE needs to do to improve.
Guide your virtual employee with the tools you need to get the job done. Before you hire, you should make sure that they familiar with most of the standard ones realizing that you will need to provide training on those that are specific to your business. We recommend that you set a time of the week to do a training session for your VE via screen sharing or a recorded video of you working on the task with the same tool.
Here are some tips to effectively train your Virtual Employees.
1. Write detailed instructions
Send your VE detailed instructions of his or her roles & responsibilities and provide any instructions your VE will need to fulfill those roles. Also, send a list of the tools that your VE needs to get the job done. An effective email instruction is with the use of the following:
Bullet points
Include your goal and objective
Provide screenshots
Recorded Training links are also a great help
Deadline of when the task needs to be completed.
Here's an email sample you can use:
Hi VE,
I need your help with a new task of researching real estate agents in Peachtree Corners. We need their email address and phone number so we can set up a meeting with them for a possible partnership.
To get this done, you need to
Study the attached file for the specific format required
Search all the names of the agents in Google & cross reference them in the MLS
Get their website address
Find email address from "About Us" page or in the MLS

If you can accomplish this task this week, that would be great. Otherwise let me know if you have any questions.
Speak soon,
Client
2. Video recordings
This is one of the most effective ways of training. It's a combination of audio and visual training which makes it much easier for your virtual employee to pick up the training.
When you give your VE a task, all you need to do is record your voice explaining what you are doing and why while you capture your screen doing the task. As you go through each step, explain to your VE why it's done and the result of doing it. Upload your video recording in YouTube or Vimeo and provide your VE access whenever they need to in case they encounter a roadblock while doing that task.
We keep a video library of tasks so that training any of our staff is easy.
3. Voice recordings
While not as effective as the video training, this may be easier for you to do as it doesn't require screen capture software.
Simply record your voice as if talking to your VE and share it to him or her via Google drive, Dropbox or some other sharing platform that you have set up.
Make sure you have a clear and to the point instructions.
Create recordings specific to a task and label them accordingly so your VE won't be confused.
Do not forget to save your recordings to a format like a .mp3 or .wav

4.Hire a company to train your VE
The most stress-free option is to find a company that will train your VE for you. These companies are experienced in training VEs for specific roles. You can be sure that their training materials are expertly done and tested.
At HireSmart Virtual Employees we provide a wide variety of training to help our clients. While we have a lot of industry-specific training, we also offer training on cultural differences, customer service, and sales support.
Even if a 3rd party is training your VE, don't forget, you still have to assess his or her progress as well as train on the specific tasks to your business, but this shortens the learning curve in most instances.
5. Make use of online sharing tools
Google Drive, Dropbox are just some of the tools you can use to train your VE. You can upload previous files and let your VE study them Set a time at the end of the week or every 2 days and have a question and answer session with your VE.
You will be surprised how a VE can work independently. There are so many other options you can consider in training your VE. You just need to find what's convenient for you and effective for your VE.
If you are interested in any of our training – feel free to look at our training products or contact us.